✔
Lifetime Technical Support
Description

4 IN 1 STUD FINDER WITH MULTI FUNCTIONS MODES HELP DETECT EXACT LOCATION-Are you still struggling to find precise stud position? Still figuring on the exact location of wood studs, AC wires metal pipe joists beam in the drywall? Tavool stud finder with 4 modes would give you best solution. Stud Scan Mode,Deep Scan Mode, Metal Mode and AC Mode provides you different scanning choice and accurate results.
UPGRADED LED DISPLAY AND CLEAR SOUDING WARNING-This wall stud sensor features large LED screen display and clear sound warning. When moving this stud finder along the wall, LED screen indicator would give you clear direction and accurate location of targets, and its sound warning would show you edge or center of this target on the wall. All this would make your DIY projects easier and faster. And that's why we recommend Tavool stud finder to you!
AUTOMATIC CALIBRATION FOR SCANNING WOOD AC WIRES METAL STUD EFFICTIVELY -This stud finder would calibrate automatically as you turn on it. Please make sure to calibrate it at a position with no stud or AC wires nearby. In stud and deep mode,just calibrate it on the wall; in metal and AC mode, please calibrate it in the air. Tavool stud-finder gives you accurate warning on metals or wires,avoid you from drilling on metal or wires or other mishaps.
NEW DESIGN WITH ADVANCED SENSOR & USER FRIENDLY- This wood metal stud finder is designed with upgraded sensor, ensuring it to quickly locate metal studs, pipes, rebar, joists and AC wires behind walls, floors and ceilings. This wall scanner is very easy and simple to use, just holding both sides of the stud finder when you move it on the wall. Once the target i detected, the large LED screen would display its precise location on the wall.
TAVOOL STUD FINDER WITH WIDE USE AND 100% SATISFACTION-This stud finder with good price and quality can be widely used for various objects and wall structures. Tavool stud finder could help you detect studs, AC wires, metasl on walls floors and ceilings quickly. Just make it your friendly handy tools!
Whether you're hanging a picture,mounting your new TV,renovating your house, or working as a professional contractor, you need to know what is on the other side. Tavool stud finder is one of those tools that you would prefer. Tavool stud finder could make a difference between a successful DIY home project and disaster.
Tavool stud finder is designed to determine exact location of framing studs that are located behind drywall. This Multi-scanner stud finder works via electronic signals to quickly locate edges and center of metal, studs, joists, pipes, live AC wire behind walls, floors and ceilings. (Please note: a 9v battery is included )
TAVOOL STUD FINDER GETS YOUR PROJECTS EASILY!
Note: 1. This stud finder can quickly locate metal, studs, joists, pipes, live AC wire behind all kinds of walls floors and ceilings but except the cement board wall and brick wall, you can use it on popcorn ceilings, plaster walls, textured surfaces, drywall, etc.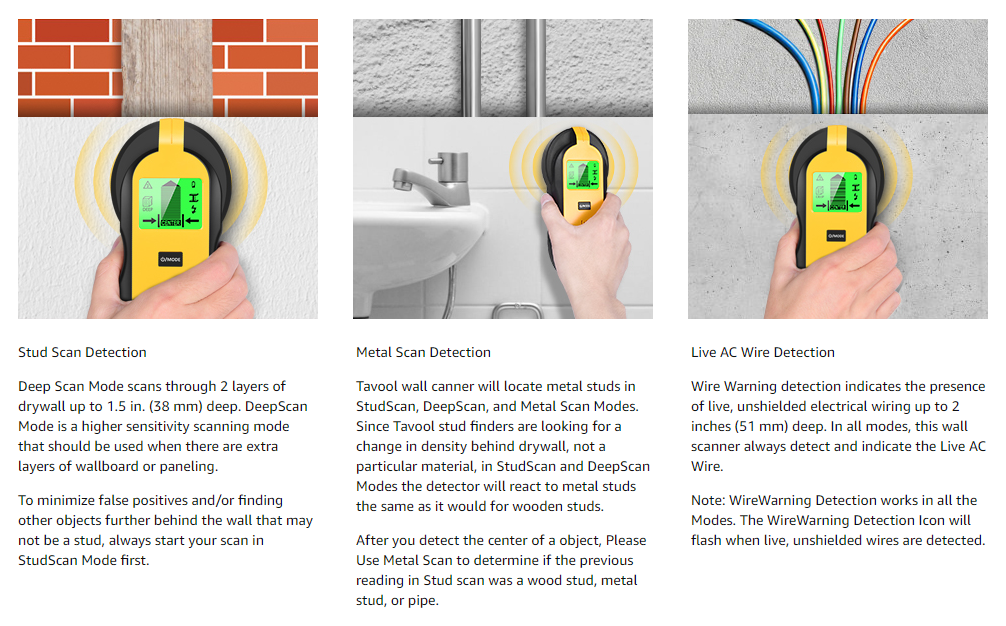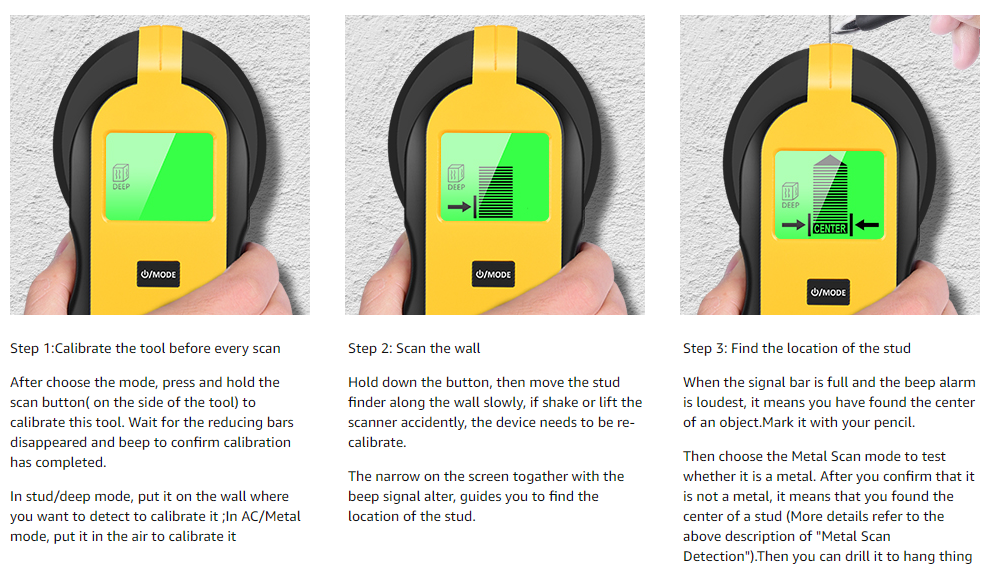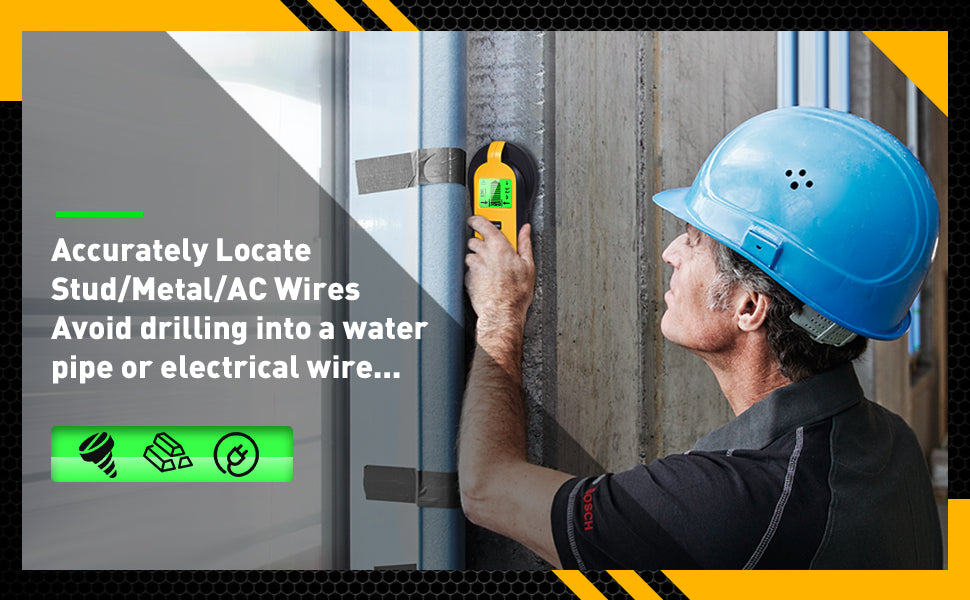 A good stud finder can be the difference between a successful DIY home project and disaster. Tavool stud finder is professionally designed! In addition, Tavool stud finders uses the UPGRADE INTERNAL SENSORS. It senses a change in density in the space behind the wall and locates the stud center with GREAT ACCURACY.
TAKE IT HOME AND START YOUR PROJECTS SAFELY!